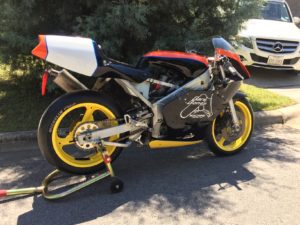 Over 13 years ago, Fred and Maggie tragically lost their son Charlie after an 18 month battle with a Meduloblastoma brain tumor. Time goes on, but Charlie's memory remains strong. The Harvest Classic is 100% dedicated to supporting those families who are battling cancer, and honoring those who have lost the battle. These young people are heroes, and they will never be forgotten. Fred and Maggie are wonderful people, and one of the ways that they honor Charlie's memory is by supporting the Harvest Classic.
In 2015, they donated an amazing Triumph Bonneville vintage roadracer, which raised $13,000 for the Candlelighters! For 2016, Fred is working with Dr. J to restore a beautiful Rickman Montessa to donate to the rally. In 2019, Fred and Maggie have donated an amazing custom roadracer. Read more about it in the Live Auction tab of the Events section!
Thanks Fred and Maggie, for your on-going support of the Harvest Classic. Look forward to seeing you both in Luckenbach in October!