Download a Schedule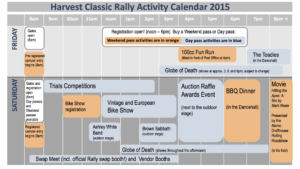 Thursday
No Camping, No Rally, No Really. Luckenbach insurance restrictions prohibit camping on Thursday night. The rally doesn't start until Friday. We love you, but don't come on Thursday.
Friday
8am- Gates open, arrive, set up camp, raise the freak flag, do your thing
12 Noon- Registration opens.
4PM 100cc Fun Run. Meet in front of the Post Office
Saturday
8am- Gates open- Come in and enjoy the swap meet, ride or watch trials event, peruse vendor booths, beware the Globe of Death, watch people& bikes,….the world is your oyster.
10am-Noon Bike Show Registration.
12:01- 3:00pm Bike Show voting begins- no late entries allowed
2PM- BROWNOUT PRESENT BROWN SABBATH on the outdoor stage!
4PM- Gather at the stage to see the trials competition awards, raffle, bike show results, and participate in the exciting live auction.
6PM- Get in line outside of the dancehall to enjoy some tasty smoked barbecue, smoked all night by our killer staff. The line seems long, but we do our best to make it move quickly!
8PM- Gather in the meadow and as the last rays of light fade way, lose yourself in a really cool movie shown on the big inflatable screen from our friends at the Alamo drafthouse.
Sunday
Pack it up and head for the hills….a shower and soft bed awaits!
P.S. We'll be your best friend if you stay and volunteer to help us clean up!