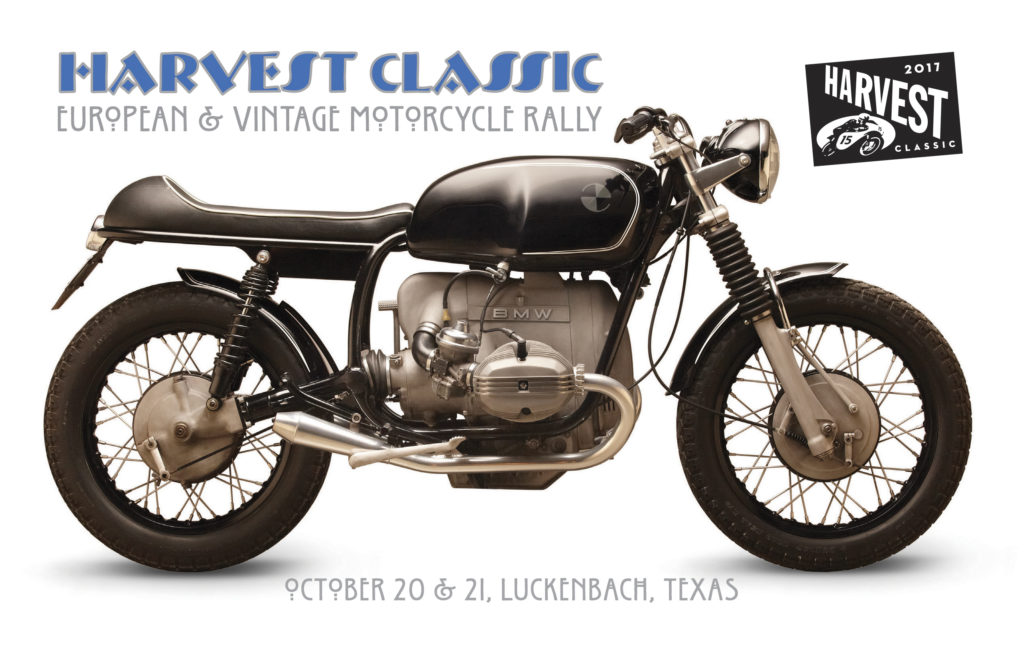 The Harvest Classic is a motorcycle rally held each fall in Luckenbach, Texas. We are wacky for vintage and European motorcycles. We also like trials bikes, concourse-quality antiques, home-built specials, vintage racers, unreliable daily riders, small-bore tiddlers, Italian Beasts, scooters, British bikes, kitted-out mopeds, cafe racers, and old Japanese jewelry. Whether you are a grizzled old gearhead or have recently drunk the kool-aid, we invite you to ride out to Luckenbach and join us for a weekend of celebrating these old bikes!
The 2016 Harvest Classic was our 14th anniversary rally, and it was AWESOME. The weather gods smiled on us, over 3000 gearheads rolled in, we had over 200 entries in the Bike Show, we had 100 tiddlers in the 100cc Fun Run, we auctioned off a Suh-weet Rickman Montessa donated by Fred and Maggie Beck, raffled off a tasty Yamaha donated by Doug Hector, and a dreamy Honda 305 donated by the Cobbertsons, the barbecue was tasty, the trials riders didn't dab, and the beer was cold!
In 2017, Join the merry team of motorheads who come from all around to enter their European, Vintage, and Competition bikes in the bike show, participate in or watch the vintage trials, eat home-cooked barbecue, win swag (or a bike) in the insanely good raffle, go big for the kids in the live auction, watch a big-screen outdoor movie, listen to great music, pick up some choice bits at the swap meet, camp under the stars, immerse ourselves in moto-culture, and rub elbows with kindred spirits. Our rally attendees, sponsors, and all-volunteer staff throw down hard to raise a ton of money for the Candlelighters Childhood Cancer program of Any Baby Can, which really makes a difference in the lives of families who are living with/ battling childhood cancer.
Like our Facebook page, and follow us on Instagram under @harvestclassic.