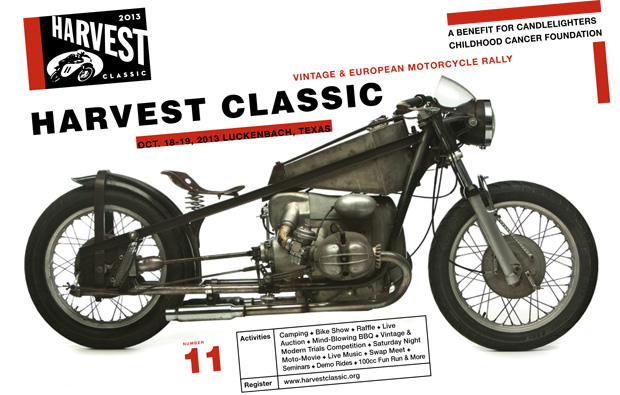 Planning for the next rally is kicking off now, the season starts with the selection and shooting of the new poster bike. This year, it's William Twitchell's unique rigid, bobber BMW.
The Harvest Classic is a european and vintage motorcycle rally held each fall in Luckenbach, Texas. The 2013 rally will be our 11th anniversary rally, and will be held on Oct 18 & 19 – so start making your plans now! Gearheads come from all around to enter their bikes in the bike show, participate in  or watch the vintage trials, eat home-cooked barbecue, win swag (or a bike) in the insanely good raffle, go big for the kids in the live auction, watch a big-screen outdoor movie, listen to great music, camp under the star, immerse themselves in moto-culture, and rub elbows with kindred spirits. The rally attendees, sponsors, and all-volunteer staff throw down hard to raise a ton of money for the Candlelighters Childhood Cancer program of Any Baby Can.
Feel free to click around on the main categories above to learn all the rally details. Check back regularly, or sign up for our RSS feed to see the latests posts, some of which will be rally-related, and some will be just for fun.